The wiki about the RAF that anyone can edit with 12 articles in total. This wiki started on the 4th July 2009!
NEW EDITORS READ THIS BEFORE CREATING A NEW PAGE!
Contents
What's new
Top 5 Tips for new editors
Check the link above to 'Using a Template' for information on structuring a new page!
Check out completed pages, for example the featured article or the editors picks for good examples of how to write your page.
Cite your references when stating a fact, e.g. "The Spitfire was now capable of 350 mph. [INSERT URL HERE]
Try not to write your own opinion, rely more on facts.
Try and get information from a variety of sources to make a much more complete article.
Did you know?
Contribute to this wiki
To write a new article, just enter the article title in the box below.
Not sure where to start?
Featured Article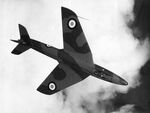 Originally designed for the Royal Air Force, the Hawker Siddeley Hunter is a fighter/ground attack aircraft of the 1950s and 60s. Famed as one of the UKs most widely exported designs (operating as part of 19 air forces), the Hunter is still in service today, with four active in the Lebanese Air Force. (more)
Featured Image